Thank You Illinois Voters and Volunteers!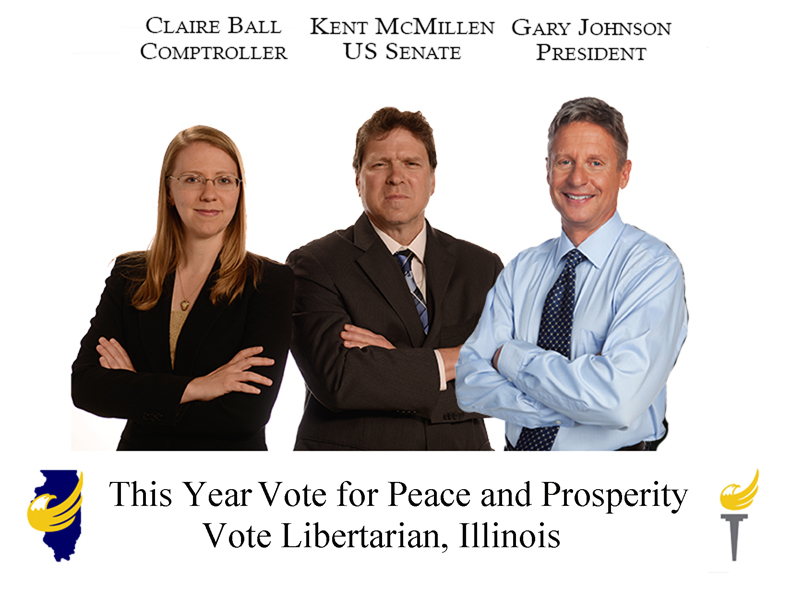 The Results are in.
The long hours of campaigning, driving around the state and the country to spread the Libertarian message is a committment our candidates make. But after all of their tireless and grueling work, it all came down you you. Althought the final results aren't in, the preliminary results show that our hard work reached hundreds of thousands of people.
Estimated totals
We currently show Claire Ball earned about 182,000 votes for Illinois Comptroller. That is third all time for a Libertarian in Illinois, and the highest we have received in this century. It is also 12,000 more than Julie Fox's previous record of 170,000 for Comptroller in 2014.
Kent McMillen, our Senate candidate was not far behind with a current estimate of 172,000. This is by far the best showing we have ever had in a Senate race here in Illinois. Congratulations to both of our hard working candidates.
Finally, Gary Johnson's previous best, and a record for the office of President in Illinois, was 56,000 votes. This year's results show that he topped 203,000. A phenomenal showing. Nationwide he garnered over 4 MILLION votes. Congratulations Gary, and especially to the Johnson team who worked so hard to Get Out The Vote.
Campaigning For You
Libertarians are Pro-You
Libertarians are traversing the state, looking to meet you. As supporters of the smallest minority: The Individual, we have been looking to touch base with as many of Illinois' citizens as possible, from the Shawnee to Chicago.
Less of Us, More of You
The message we are sharing says: "Enough of the establishment's robbing Peter to pay Paul." We need to get the government out of the business of playing one group of people against another. It is time for policies of peace that protect every individual's rights to life, liberty and the pursuit of happiness.
Choose the Libertarian Party
The Libertarian Party is the third-largest and fastest–growing political party in America. There are libertarian chapters in all 50 states and currently over 140 elected Libertarian officials – six of them right here in Illinois.
Americans want, and deserve, a political system which respects them as unique individuals, as people who can make their own plans, who take responsibility for themselves, who are compassionate, and who can generally solve their own problems.
Libertarians are practical – we know we can't make the world perfect – but it can be a lot better.
The Libertarian Party is the only political party that is working to dramatically reduce unrestrained government spending, taxes, debt, regulations, bureaucracies, and wars, both foreign and domestic.
Could Illinois use the Liberty Advantage?
Illinois has the largest pension liability, the worst credit rating, and the most units of government in all the 50 states.
The state's foreclosure and unemployment rates are consistently among the worst in the nation.
Meanwhile, establishment politicians make time to control your life, banning incandescent light bulbs and worrying about e-cigarettes and big gulps.
It's time for a change in Illinois politics.
Call to patriots
We believe Illinois is ready for a fresh approach. If you do:
Contact us and let us know what interests you about liberty